Dancing In the Sky by Coracree :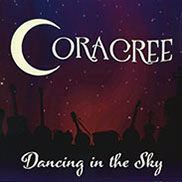 Coracree is -
Allan Carr - Bass, Guitar, Vocals
Sarah Gowan - Guitar, Corcertina, Feet, Vocals
Bill Quern - Banjos, MAndolin, Melodeon, Vocals
Jane Rothfield - Fiddle, Banjo, Vocals
with
Joe DePeola - Percussion



Samples From Dancing in the Sky
1.Thundersnow Play Sample
2. McGann's March / Janet's Fancy / North Carolina Breakdown / Greasy Coat Play Sample
3. Branford Jig / Lootering / Fire Jig Play Sample
4. Carpathian Tune / Nancy in a Shirttail"/ Cold Mountain Play Sample
5. The Candlelight Play Sample
6. The Blacksmith / F-Bomb Play Sample
7. The North Hambo Play Sample
8. The Northern Lights of Old Aberdeen Play Sample
9. Black Rogue / The Orphan / The Long, Hot Shower Play Sample
10. The Malvern Twist / Ducks on the Pond / Waiting for Sandy Play Sample
11. Loving Hannah Play Sample
12. Dancing with Mom in the Kitchen Play Sample
************
First Course by Party of Three :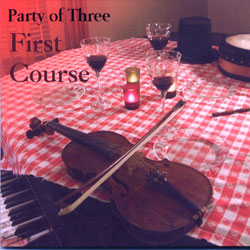 Samples From First Course
1, Kievelle Play Sample
2, King's Reel Play Sample
3, Bittersweet Play Sample
4, Banjo Therapy Play Sample
5, Cavers Kirkcudbright Play Sample
6, Wing Commander Donald MacKenzie Play Sample
7, Sierra Lullabye Play Sample

Party of Three brings together three musicians from diverse musical backgrounds who share a depth of experience playing for dancing. Combining high energy Scottish and Cape Breton fiddle music with Latin and Funk influenced piano and drum grooves, Party of Three has been enthusiastically received by dancers across the mid-atlantic and northeast. Members include Lilly Pearlman on fiddle, Neil Pearlman on piano, mandolin and banjo, and myself on drum set, doumbek and bodhran.
Click here to buy First Course from paddledoo.com
************
Instruments of Change by Electic Dance Orchestra :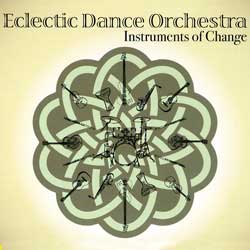 Instruments Of Change is Eclectic Dance Orchestra's first CD, and presents a blend of Celtic, Irish, and old time music, with both a live and lively feel. It is traditional contra dance music played with a contemporary and original touch. Eclectic Dance Orchestra has been playing the contra dance and festival circuit from NYC to the Berkshires since their formation, as well as weddings, parties, and special events. The band consists of Joe DePaolo on drums, Howard Hamm on guitar and vocals, Paul Rice on fiddle, dobro, electric violin, and vocals, Charlie Tokarz on woodwinds, Mark Vincent on bass and vocals, with Kathryn Wedderburn singing and calling both traditional contra dances and her very own "rock and roll contras". Tracks include jigs, reels, waltzes, a sea shanty, and a few familiar rock tunes, played their original style rather than the R+R contra style of the band 's live performances.
Click here to buy Instruments of Change from CD Baby.com
Click here to buy Instruments of Change from Dig Station.com
Click here to buy Instruments of Change from www.indieRhythm.com


Samples From Instruments of Change
1, Devil in the Strawstack / Flowers of Edinburgh Play Sample
2, Tripping Up Stairs / Wiskey Before Breakfast / Pigeon on Gate Play Sample
3, Hundred Pipers / Haste to the wedding / Swallowtail Jig Play Sample
4, Si Bheag, Si Mhor Play Sample
5, Merrily Kissed the Quaker / Mairi's Wedding Play Sample
6, Perridin Two Step / Marmaduke's Hornpipe / Two Wide Nickels Play Sample
7, Across the Western Ocean Play Sample
8, Hommage a Edmond Pariseau / Julia Delany / The Gravel Walk Play Sample
9, Piper's Lass / Blair Atoll / The Fairy Dance Play Sample
10, Star of the County Down Play Sample
11, Sunshine of Your Love Play Sample
12, Venus Play Sample