Joe is proud to be associated with the following bands:


Party of Three,
Party of Three brings together three musicians from diverse musical backgrounds who share a depth of experience playing for dancing. Combining high energy Scottish and Cape Breton fiddle music with Latin and Funk influenced piano and drum grooves, Party of Three has been enthusiastically received by dancers across the mid-atlantic and northeast. Members include Lilly Pearlman on fiddle and Neil Pearlman on piano, mandolin and banjo. Visit PO3's web site http://www.po3contradance.com

Contrazz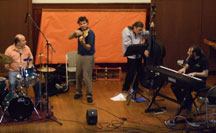 Sam Zygmuntowicz on violin, Bob Jones on bass and Marnen Laibow-Koser on piano, flute,and viola.

Oy Diddle Diddle
Danny Elias on clarinet, Marco Brehm on Bass, Bob Jones on guitar and vocals and Sam Zygmuntowicz on violin.


Termite's Delight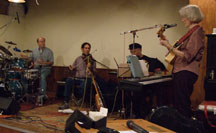 Susie Deane on piano and guitar, Michael Gorin on violin, and Chris Carpenter on mandolin, banjo, pennywhistle and clarinet.

Pizzazz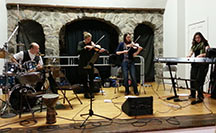 Members are Rachel Panitch on fiddle, Audrey Knuth on fiddle, Amy Englesberg on piano and
Joe on percussion.
JAM
Members include Joe De Paolo on drums percussion, Audrey Knuth on fiddle and Mike Sokolovsky on guitar. Jam brings together very talented musicians from different parts of the country who meet at Catapult Showcase in GA in 2013. When they start playing at a contra dance it only takes a moment to notice their technical ability's and how they are synced together musically. You also notice the pleasure they get for playing for dances. It is almost impossible not to dance when this band is playing."
The Big Phat American K-Lee Band.
See The Big Phat American K-Lee Band. live on YouTube
Rumpus
Rumpus is comprised of musicians from diverse musical backgrounds. We play an eclectic mix on high energy contra dance music. Members include, Sarah Gowan on guitar and concertina, Bill Quern on mandolin, banjo, fiddle, accordion and harmonic, Nora Smith on fiddle and myself on drums and percussion.
Corachree
Corachree is a new contra dance band that features highly experienced contra dance musicians with strong roots in Celtic, French Canadien and Old Time traditional dance music. Members include Janie Rothfield on fiddle, Bill Quern on tenor banjo, mandolin, accordion, harmonica and Sarah Gowan on guitar.The music of Corachree has great drive, swingy-ness and improvisational moments that really move the dancers. We play traditional tunes plus originals written by Janie, Bill and Sarah. Visit Corachree online here www.corachree.com
Kat Jamb
Kat Jamb is a Rock' n Roll contra dance band. Members include Kathryn Wedderburn calling and lead vocals, Mark Vincent bass and vocals, Bruce Knowlton guitar and vocals, Alan Thompson piano and vocals. This band takes contras to a new level and can be seen at Northeaster music and dance festivals. Contra dance to your favorite rock music
Contrapositive.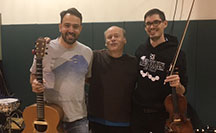 Band members include Matthew Christian on fiddle, mandolin, flute, whistle and Highland pipes., Matt Diaz on guitar, bouzouki and flute and Joe De Paolo on drums. Contrapositive plays an eclectic mix of high energy contra dance music with a Scottish flair. Set your socks to hop when this band takes the stage.